In this guide, we'll show you how to integrate your chatbot with Instagram. There are a few steps required before integration with Instagram is possible, which we'll review below.
We'll cover the following:
Connecting to Facebook and Instagram Business Accounts
To begin with, you must have a Facebook Business Manager account. If you do not, first create a Facebook Business Manager ID here. After it has been created, verify your account here.
You must also have an Instagram Business Account, which can be created by following these instructions. Keep in mind, your Instagram Business Account must have at least 1k followers, otherwise integration with Instagram will not be possible.
Next, you'll need to connect your Instagram Business Account to your Facebook Page. To do so, use these instructions.
Verification process with Certainly
Then, send an email to support@certainly.io to let us know you have completed these steps. Please note that it is very important all criteria outlined above have been met.
Our Customer Success team will reach out to you to finish the verification process. After this process is complete, you'll receive a verification email.
Connecting with the Instagram channel
After you've received your verification email, log in to the Certainly Platform. Open "Bot Settings" from the right sidebar menu, click the "Channels" tab, and select the Instagram channel. Next, click the "I'm Verified" button, as shown below.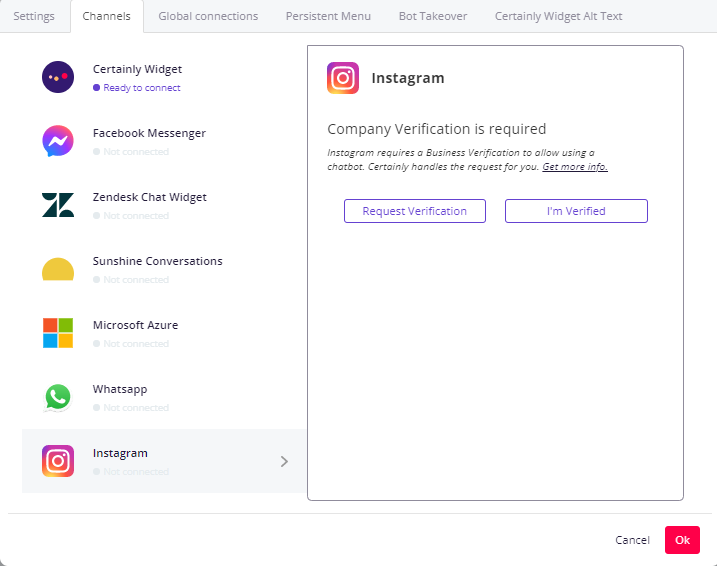 Enter your Instagram credentials in the designated fields: Access Key, Secret Key, Instagram Account (the username, email, or phone number associated with the account being connected).
Then click "Connect".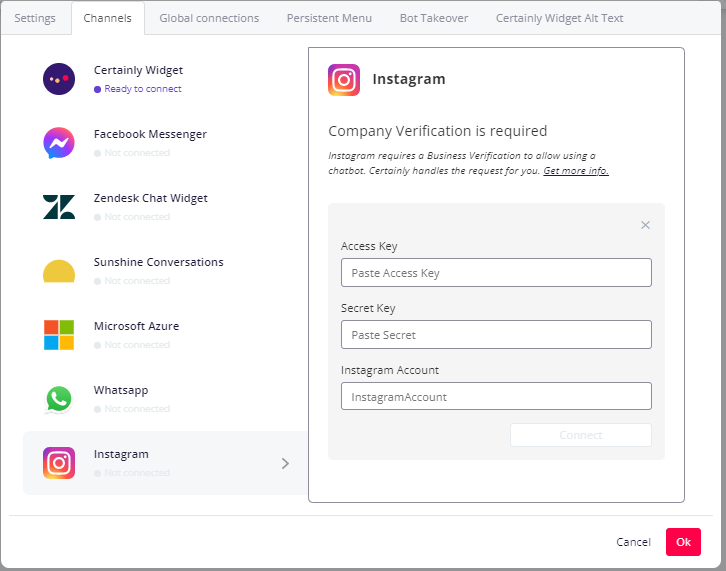 You'll be able to connect additional accounts by clicking "Add account". Each account will need to be verified according to the process noted above. Clicking "Disconnect" will remove the connection with the selected Instagram account.
Now your Certainly bot will be fully integrated with Instagram! If you have any questions, please reach out to support@certainly.io.