A Webhook Template (WHT) is an excellent tool for Agencies that want to provide easy-to-use Webhooks (WH) to the Companies under their purview. The WHT the Agency creates will be available for the Companies to use in the Webhook Builder.
Creating a WHT
When creating a WHT, please refer to the documentation on how to create a Webhook from scratch, as it works much in the same way as WH creation, with a few key differences:
Only Agencies can create WHTs.
When using the WHT, values may be inserted later by the Company. The WHT creator decides which values are optional or required to use the WHT. For example, you can decide whether Headers and Params are required in the

WH

instance.
In Basic Data, you can insert an image file which you'll display in the Webhook Builder.
It is important to remember that any values the Agency puts into the WHT will be hardcoded and will, therefore, be unable to be altered by the Company.
Below, you can see an example of the various elements of a WHT and how to use them: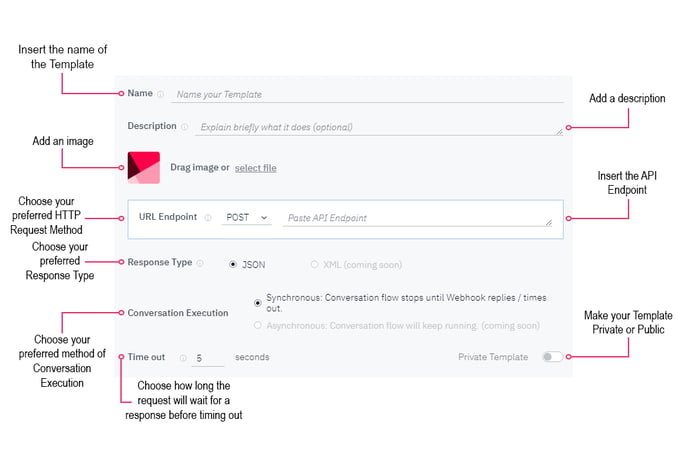 Adding a description to a WHT
In Basic Data, it may be useful to Companies if the Agency creating the WHT adds a description. We recommend including:
the intended use of the WH;
Authentication type information and how the Company can locate the relevant authentication details needed to use the WH;
any requirements the Company might have to fulfill in order to use the WHT, such as a required subscription type to a third-party platform;
a description of any other fields to be added when using the WHT, such as query params and/or other fields to be sent in the request body;
which Custom Variables are created by the WH; and
a link to any relevant documentation on the API used in the WH.
When you're finished with your WHT, you can either make it available for the Companies you manage or you can save it as private if you're not quite ready to release it.